Hello, it's Tuesday so it must be the Rubí Tuesday blog!  Today, Rubí donkey devotes her entire blogpost to the People's March, with research by Morris Donk.  (Remember Rubí doesn't do reading and Morris doesn't do writing.)
Hello, today's blog is all about the People's Vote March on Saturday 20th October.  Morris Donkey and I will be encouraging everyone with our words and information here today, and all four of us donkeys will be doing furious braying from here at El Parral on Saturday: we hope you'll hear us in Westminster.  If you thought the "Wooferendum" put  dogs in the forepaw of the people's protest, you ain't seen nothing yet: here comes the Donkey Assembly!
The People's March is a leap of faith.  Morris Donk tells me the term became popular in the mid-19th century – saltus fidei – and it was used very much by Søren Kierkegaard (which sounds like some sort of Norwegian fish to me but Morris Donk didn't explain.)  Anyway, a leap of faith is basically hoping for the best.  Thousands of people from all political parties and none, from all walks of life and none… (Oh wait.)  Anyway, lots of people.  Will be hoping and praying if they just turn up in their thousands, the people running the country, and indeed not running it, will say "OK you're right: we really do have a democracy."
Morris Donk once did leaping of faith over a stream, with a full pack-saddle, laden with picnic goodies. He wanted to avoid the danger of crocodiles and not get his hooves wet: no donkey ever likes going in the water.  So, after pausing for a few minutes to consider the promble he did his saltus fidei from a standing start.  He flew through the air like Pegasus the horsefly.  (Morris Donk told me to write that as it's a classical reference, but I have no idea why.)
And so it is with the People's March on Saturday, except there will be no streams to jump, nor any horseflies.  But there will be a huge saltus fidei: the leap of faith that Brexit can be stopped.  The stupidest ruinous act in British history, unsupported by any evidence that leaving the European Community will produce any benefits whatsoever, can be stopped by people.  The lunacy of the worst government in modern British history can be brought to an end by a firm reminder that the majority of the people now don't want it to happen.
People's Vote campaign: Roadmap to a People's Vote
Saltus fide! Take a leap of faith. If you fail, at least you will have tried. If you don't do it, you'll always wonder what would have happened if you tried. Go and do the leaping. Saltus fide!
Use Twitter hashtags #PeoplesVoteMarch and  #StopBrexit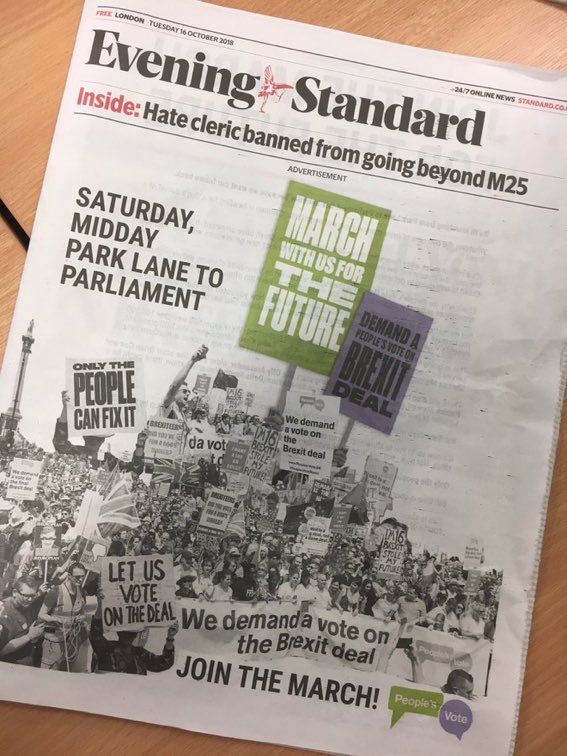 Practical information:
General assembly point north of the Hilton Hotel in Park Lane. Tube stations: Green Park, Hyde Park Corner, Marble Arch (or 15 min walk from Victoria)
Spanish sections assembly:

(1) British in Europe and the3million are meeting at Speaker's Corner in Hyde Park between 10.30 and 11.00am – please wear white tops, hats or scarves to distinguish us from other marchers.
(2) Bremain in Spain are meeting at Green Park tube station at 11.30am (Alys please note!  This is the group you are marching with.)
More information to be added here later – return for updates and will put maps etc. on here for the day.  Also nearest toilets and maps of steets and tube stations at the dispersal end of the march.  Bookmark this page and it can be a reference point to use on Saturday at the march with live updates.
Get kitted out with People's Vote T-shirts, sweat shirts, mugs, bags etc. at https://peoples-vote.myshopify.com/
I love the Brexit unicorns bag!